Tom Robbins said, "It's never too late to have a happy childhood." Let's see if he's right! Author-illustrator Wendy Wahman leads a presentation and free workshop designed to tap childhood memories for stories, or for whatever reason you may wish.
Wendy Wahman received a TAIP grant from the City of Tacoma for her graphic memoir, Progress, and is the author/illustrator of Don't Lick the Dog, Pony in the City, Nanny Paws, and other fine books for children.
"If in the twilight of memory we should meet once more, we shall speak again together and you shall sing to me a deeper song." – Khalil Gibran
Event address:
King's Books
218 St Helens Ave

$18.99
ISBN: 9780805087338
Availability: Special Order
Published: Henry Holt and Co. (BYR) - April 27th, 2009
---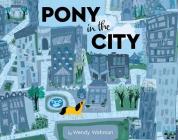 Email or call for price.
ISBN: 9781454922322
Availability: Hard to Find
Published: Sterling Children's Books - September 12th, 2017
---
$17.99
ISBN: 9781503954366
Availability: Usually Ships in 1-5 Days
Published: Two Lions - May 22nd, 2018
---